If you're wondering how to clean wood shingles and siding, it's vital that you take adequate time to prepare properly! Using the wrong tools, detergents, and cleaning techniques can mean long-term damage to even the toughest outdoor materials, but is especially hazardous to wood shingles, siding, fences, and decks.
To clean wood shingles and siding, use a solution of one part bleach to three parts water. Lightly spray the wood surfaces and allow this mixture to sit for at least 15 minutes. Rinse carefully, and repeat as needed.
This weak bleach solution should kill growing mold and mildew, and help loosen dirt and grime. A light rinse is usually enough to then provide a thorough clean.
While this process might seem simple enough, it's very easy to damage wood surfaces with garden hoses, power washing equipment, and harsh cleansers, as said. To ensure your property's wood surfaces are clean, pristine, and damage-free, check out some added tips for proper exterior washing.
How to Clean Wood Shingles and Siding
Your first step to clean wood shingles, siding, fences, decks, and other surfaces is to simply rinse down those fixtures with a garden hose, using a nozzle with a light pressure. In many cases, a simple rinsing removes enough dirt, dust, and other grime so that your wood surfaces look like new.
If a simple rinsing is not sufficient, note some added tips for ensuring a thorough clean of the wood surfaces around your property:
     

Start with a rinse of the wood surfaces, to remove as much dirt as possible and ensure the wood is wet.

     

Mix one part oxygenated bleach to three parts water. Spray down the wood generously.

     

Allow this mixture to soak for at least 15 minutes, so the bleach can kill mold spores, algae, and other growth.

     

Rinse the wood surfaces with the lightest pressure on your garden hose nozzle.

     

Ensure you start at the top of the home and work your way down when rinsing. Never aim a hose upwards as this can allow water to seep in below siding and shingles, risking rot and mold. You can even loosen those pieces and lose them in high winds!

     

Avoid using too much pressure or holding your hose less than 18 inches away from the wood surfaces. Excessive pressure can risk etching and scratching wood, leaving behind permanent damage.

     

Repeat this process if it doesn't remove enough dirt and grime the first time.

     

If your wood surfaces are still dirty, use a nylon bristle outdoor scrub brush to break up more dirt and grime.
If your home's wood surfaces still look dirty or you can't seem to remove stubborn mold, oil stains, and the like, it's time to call a professional power washing contractor. He or she will have access to stronger detergents and will know how to properly scrub those surfaces without causing damage.


Can You Pressure Wash Wood Shingles and Siding?
Homeowners should never pressure wash wood shingles, siding, decks, fences, and other surfaces. Soft wood is especially prone to permanent etching, scratching, chipping, and other such damage. It also doesn't take much pressure to leave behind those unsightly marks!
If a bleach mixture and garden hose or soft bristle brush doesn't get your property's wood surfaces clean, it's time to call a professional. Soft wash cleaning is especially useful for wood fixtures. This process uses a deep cleaning detergent and low-pressure rinsing, ensuring a thorough yet gentle clean.

A homeowner should also avoid being on a ladder, especially for power washing! Ladders are dangerous in any situation; trying to manage cumbersome power washing equipment makes them even more precarious. To ensure a thorough clean while staying safely on the ground, call a power washing contractor near you for needed soft wash pressure washing.
Maintainting Shingle Siding
Cleaning wood surfaces is one of the most important aspects of maintaining shingles, siding, and other features. Mold, mildew, moss, and algae are especially damaging to wood, so removing these as needed can help extend the life of wood features.
Water-resistant preservative or sealant also helps maintain wood shingles and siding, and other surfaces. This preservative repels water, avoiding rot and splintering. Sealants and preservatives also add a protective layer against strong sunlight, high winds, and harsh weather.
Clear coat stains and paints are also an excellent choice for maintaining shingles and siding. These often seep into the wood, providing added protection against fading and other damage. Paints and stains can also restore the overall color and appearance of wood, making it look like new.
How Long Do Wood Shingles Last?
As with any roofing material, the lifespan of wood shingles depends on the quality of materials and installation. Your shingles will also last longer depending on local weather conditions, sunlight exposure, and how well you maintain those shingles over the years.
Most wood shingles have an expected lifespan of about 30 years but need annual or semi-annual upkeep, including cleaning and sealing. Cedar is especially prized for its natural resistance to insects and rot, and because it offers a very nice aroma! This can be expanded if you properly follow the guidelines for how to clean wood shingles and siding.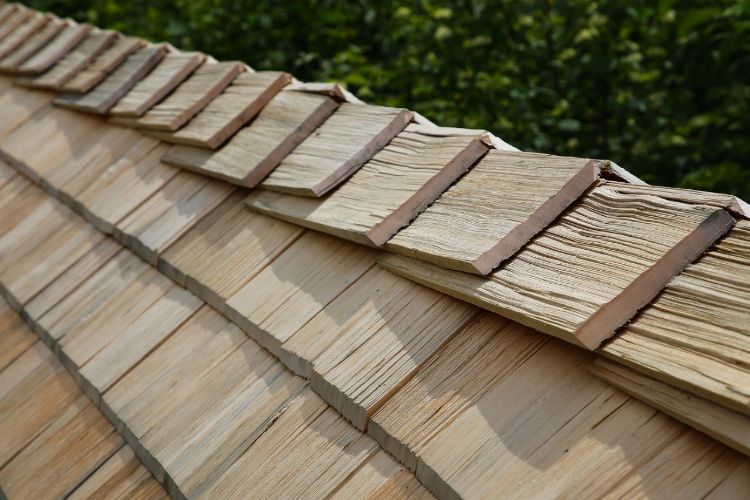 Wood shingles tend to split easily, which is why a wood roof needs annual inspections. It's vital you replace split or damaged shingles quickly, to protect the roof's layers from water damage. Expect to pay anywhere from $250 to $600 per 100 square feet for wood shingle repair or replacement.
Removing Black Stains From Wood Siding
Mold typically creates black stains or spots on wood siding, shingles, and other features around your property. The best way to tackle mold on outdoor wood is with oxygenated bleach. Oxygenated bleach is not as harmful to wood or vegetation as chlorine bleach, while still offering an effective clean.
Start with a 1 to 3 concentration, meaning one part oxygenated bleach to 3 parts water. Saturate the wood and let the solution soak for 15-30 minutes. Brush the bleach solution off with a nylon bristle brush.

If this doesn't get rid of all the black stains on the wood, increase the solution to one part bleach to two parts water. Apply this solution and let it sit for 30 minutes. Rinse and scrub with a brush as needed. If this still doesn't remove all the dark stains on wood, call a power washing professional near you, and let them know that the wood is showing mold damage and dark stains.
Cleaning Wood Siding Before Staining
Proper cleaning is vital before staining any wood surface! Stain will not take so well on dirty or dusty wood. Splinters, chips, and other damaged areas might allow stain to simply fall away from the wood rather than seep past its surface.
Start by giving the siding a good rinse with a garden hose. If you notice lingering dirt, mold, or other debris, use a solution of one part oxygenated bleach to three parts water and soak the wood. Scrub the solution off and then rinse.
Ensure the wood is dry completely, and check for splinters, loose nails or connectors, chipped wood, and other damage. Patch the siding as needed and remove all other debris before staining. It's also recommended you stain an unobtrusive spot, to test the color, before applying stain to the entire siding.
How Do You Clean Wood Siding Without a Pressure Washer?
Since cleaning wood surfaces with a pressure washer risks permanent damage, it's good to review how you can keep siding, shingles, and other features clean around your property. Your first step is to invest in a soft-bristled outdoor broom designed for cleaning wood surfaces. Look for a house washing broom with a telescoping handle for siding, so you can reach the second floor as needed.
As you notice your home's siding, deck, and other surfaces getting dusty and dirty, give them a good cleaning with the broom, just as you would interior floors. The more often you clean wood surfaces with an outdoor broom, the less risk of dust and dirt building up or getting ground into those fixtures.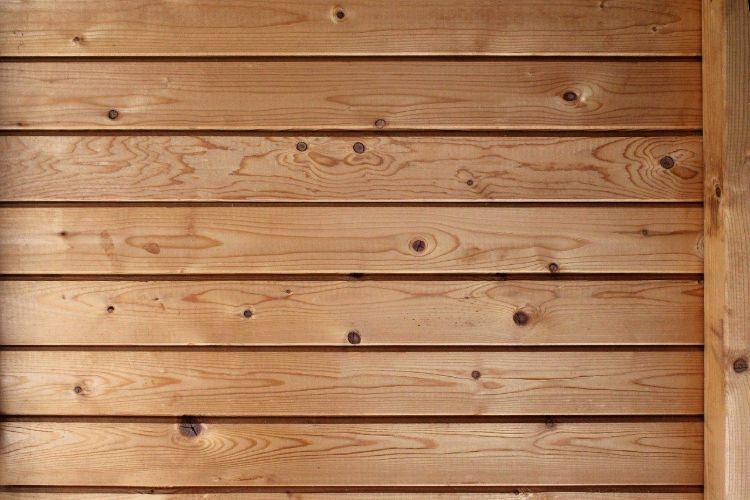 It's also useful to use everyday cleaners meant for application with a garden hose. Simple Green is an excellent choice for lightly washing wood surfaces and materials without damaging that material. You can also use oil soap on fences and decks as needed, as this replenishes natural oils in wood while ensuring a thorough clean.
At the first sign of mold or algae growth, invest in sprays meant for these organisms. These sprays will help kill spores and roots, keeping these organisms from growing. If you do notice large areas of mold or other damage and stains, call a pro to tackle that issue as quickly as possible.
Restoring Wood Shingle Siding
To restore wood shingle siding, first start with a thorough wash. In some cases, a high-quality wash and mold removal is all that's needed to restore the color and shine of wood siding, shingles, decks, and other features.
You can also try a cedar oil mixture for wood surfaces. This oil permeates wood and restores its color and shine, while also helping to repel water, insects, and dirt. When using cedar oil, apply it according to package directions and ensure you always wear breathing and skin protection while working!
If your wood shingles still don't look as expected, it's time to use a clear coat stain. As with any wood features, you'll apply the stain and allow it to sit for several minutes before wiping it away. Use a telescoping roller to reach far areas of your home and ensure you apply stain to clean, dry wood surfaces.
Painting Wood Shingle Siding
Painting wood shingle siding is an excellent choice for overly worn and weathered wood that might not respond to stain. Paint also offers more protection against the elements than stain and other coatings, prolonging the life of wood walls and other outdoor features. However, note that you typically cannot stain wood once it's painted, so ensure you've considered this choice carefully.
First, ensure the wood is cleaned thoroughly and free of mold, dust, and other debris. Apply a stain-blocking primer, to keep mold from growing back. Soft wood also needs reconditioning, so invest in a stiff-bristled hand brush and brush the wood before painting, working with the grain.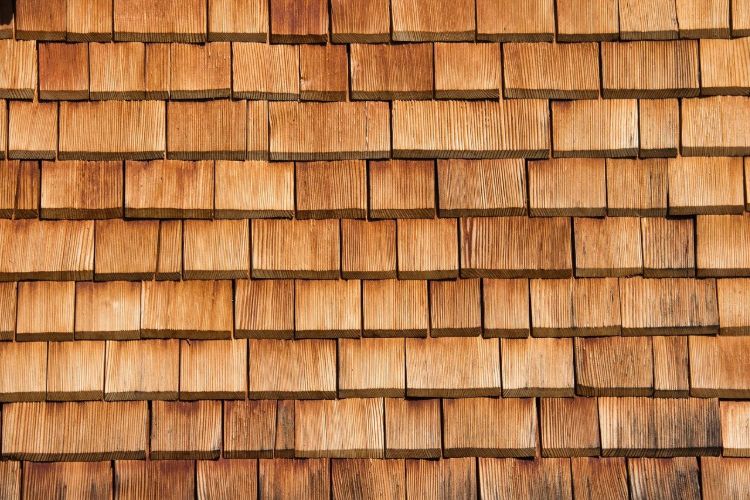 Always use paint meant for outdoor wood surfaces and allow adequate drying time between coats. Remember that even the toughest paint fades quickly in harsh sunlight and weather conditions, so be prepared to add sealant or other protective coatings every year or as instructed on the package. You might also need to repaint your exterior wood surfaces every two to five years to maintain the color and coverage.
Pros and Cons of Wood Siding
If you're considering wood siding for your home or buying a home clad in wood siding, you might note some pros and cons of this material. First, consider that wood is very environmentally friendly, as it doesn't emit pollutants during the manufacturing process or as it breaks down, and is easily recyclable.
Wood also continues to "breathe" even after it's cut, which can help improve outdoor air quality. Wood siding also offers a natural look and feel that many homeowners love, for a timeless appearance outside your property.
The downside of wood is that it might not offer the best insulation, and it does need more consistent updating and maintenance than other materials. Wood siding needs frequent sealing and most homeowners find that they will need to paint it after so many years, to cover fading and worn areas.
However, if you schedule regular exterior power washing for your wood siding and keep it protected with proper sealant, it can last for decades. Its rugged appearance also compensates for that added upkeep, providing your home with stunning curb appeal you're sure to love!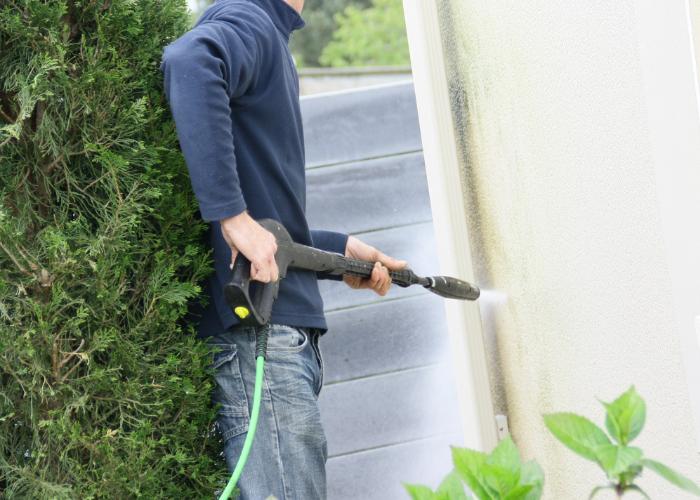 Rhode Island Power Washing and Roof Cleaning is happy to provide this information about how to safely clean wooden shingles and siding with our readers, and hopefully, you found it helpful! To keep your home or commercial property in tiptop shape and looking its best, call our expert Rhode Island power washing contractors. We specialize in soft wash pressure washing, providing a thorough yet gentle clean for all your property's exterior surfaces.