Many homeowners don't see the point of pressure washing the driveway. After all, it is the place where your car rests. Therefore, it's likely going to continue to get dirty. Most importantly, the dirt is probably out of sight most of the time. However, this shouldn't deter you from getting your driveway pressure washed. Over time, oil and other buildups on a driveway can become so much that you probably don't know the original color of your driveway. As a result, you may assume the driveway color is a darker hue when it is probably a light-colored driveway. Before you assume that cleaning your driveway is simply a matter of aesthetics, check out these important reasons why you should consider driveway pressure washing. Our professional pressure washers will highlight 5 benefits of driveway pressure washing in Rhode Island for you.
It Keeps the Weeds Away
While this may still be a part of keeping the aesthetics of your home beautiful, keeping the weeds away could also improve the air quality of your home. Patches of weeds growing in your driveway are not only unsightly but also problematic for those visiting or living in your home who have allergies. Some of the types of weeds that may grow in cracks in your driveway may include crabgrass, fescue, chickweed, or quackgrass. A pressure washing company can use pressure washing systems to remove these weeds from the premises gently. They may even use some environmentally friendly chemicals to help keep them at bay. 
Prevents Trip Hazards
Another reason you should consider getting driveway pressure washing in Rhode Island is that it could prevent falls on your property. Over time, your driveways can become a cesspool of oils, fluids, and other car chemicals that can blend, making your driveway slippery. This is especially true if you have a glossy coating on your driveway that is also slippery. In combination with the slippery chemicals, the coating makes it ripe for you, family members or guests to take a tumble on your driveway. Unfortunately, you could be legally liable for a slip and fall on your property. So, it is a good idea to ensure that for the safety of all, including yourself, that your driveways remain clean.
Improves Curb Appeal 
Imagine trying to sell your home, and everything about it is picture-perfect but the driveway. There's no way to explain away the spotless, well-manicured home with a huge, unsightly oil stain right down the center of the driveway. This may send a red flag to the potential buyer that "this house seems perfect, but the buyer may be hiding a major flaw that could cost us as soon as we purchase." The exact amount of effort that you put into cleaning and staging other parts of your home should be put into making sure your driveway looks good. 
Keeps Your Driveway Lasting a Long Time
Even if you don't plan to sell your home, it is a good idea to keep your driveway clean. Keep in mind that replacing an entire asphalt driveway could cost between $1,800 - $4,700. Although asphalt driveways may last 30 years, the lifetime of your driveway could drop drastically if they aren't maintained. In addition, dirt, grime, salt, and other debris could quickly erode your driveway. It could also make it an eyesore for an otherwise beautiful home. Therefore, it is a good idea to have a pressure washing company come out annually to pressure wash your driveway.
It Improves the Environment 
When your car isn't working correctly, it may lose a lot of fluids, including engine oil, transmission fluid, or coolant. These fluids may leak from your car while sitting in the driveway. Some of these oils may remain embedded in the concrete. However, some of them may run off onto the concrete when it rains into sewer systems. As a result, these car fluids could slowly contaminate the local water supply. Even after you get your car fixed, these oils may remain on your driveway. Therefore, to remedy this problem, it is good to have a pressure washing company clean your driveway.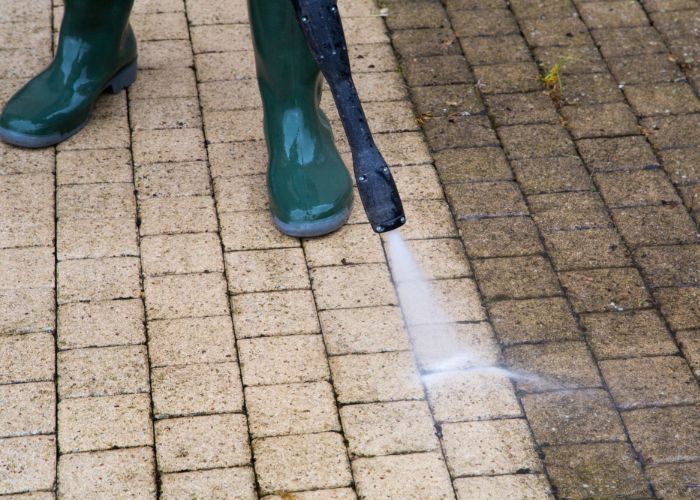 You probably weren't aware of how important it is to clean your driveway. Now that you know, it is the perfect time to call the professionals at Rhode Island Power Washing. They can provide you with clean, gorgeous driveways that look like new in a short time. Also, if you need our other power washing services, we can offer them, too! So, call today to schedule your driveway pressure washing in Rhode Island and get your free quote.