Power washing siding isn't as cut and dry as one might think. The days of using a bucket of soapy water and a scrub brush are over, and many people are thankful for that! However, there is a right and a wrong way to power wash the siding of your house and that's what we're going to talk about here.
So, is there really a right way to power wash your house siding? You bet! Doing it the wrong way can result in dents and divots being made in your siding. You can also use the wrong detergent and actually encourage corrosion! We won't let you make these mistakes, though.
Don't worry! Once you fully grasp the concept of safely power washing siding it will be a piece of cake. Using a pressure washer is so much more efficient and convenient than the old-fashioned bucket and scrub brush days.
Make Sure to Use High-Quality Power Washing Detergent for Siding
Sure, you can use plain old soap and water if that is all you have on hand but beware that the results may not turn out as good as you want them too. If you purchase power washing for siding detergent make sure the label specifies just that.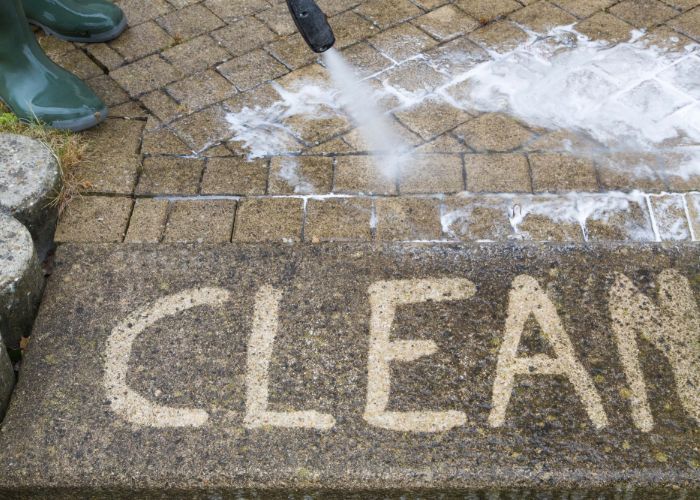 Some power washing detergents can be injected directly into the jet stream and this is a much more convenient way of filling the pressure washer with soap. Weigh your options.
Stains are Best Removed With a Scrub Brush
If you're dealing with some tough spots during your power washing siding, make things a little easier on yourself and use a high-quality scrub brush on the stain. The brush's bristle will quickly lift away cake don dirt, algae, and even mold.
Another perk to using a scrub brush is that the friction works as a foaming tool and evenly spreads around the detergent while power washing your siding. You can invest in a rotating utility brush that snaps onto the end of your pressure washer wand.
When Power Washing Siding Always Remember to Rinse it Clean
You always want to make sure that you rinse away all remnants of off of your siding with clean water. Start from the top of your structure and work your way to the bottom until no more soapy residue remains.
Leaving detergent behind on your house will eventually dry and leave streaks and stains on your surfaces. If you aren't sure your up to the task of power washing on your own, make sure to call a professional power washing company!